How to Prepare Your Bathroom for Overnight Guests
We've put together an all-encompassing list on preparing your bathroom for overnight guests.
There's nothing better to boost the energy in a home than having guests stay over. It's also Murphy's law that they will forget some important item like toothpaste and something in your home will stop working the day they get there. That's why we've put together an all encompassing list on preparing your bathroom for overnight guests. The list to end all lists - we talk about what to clean, maintain, stock and decorate so you can relax and enjoy your company.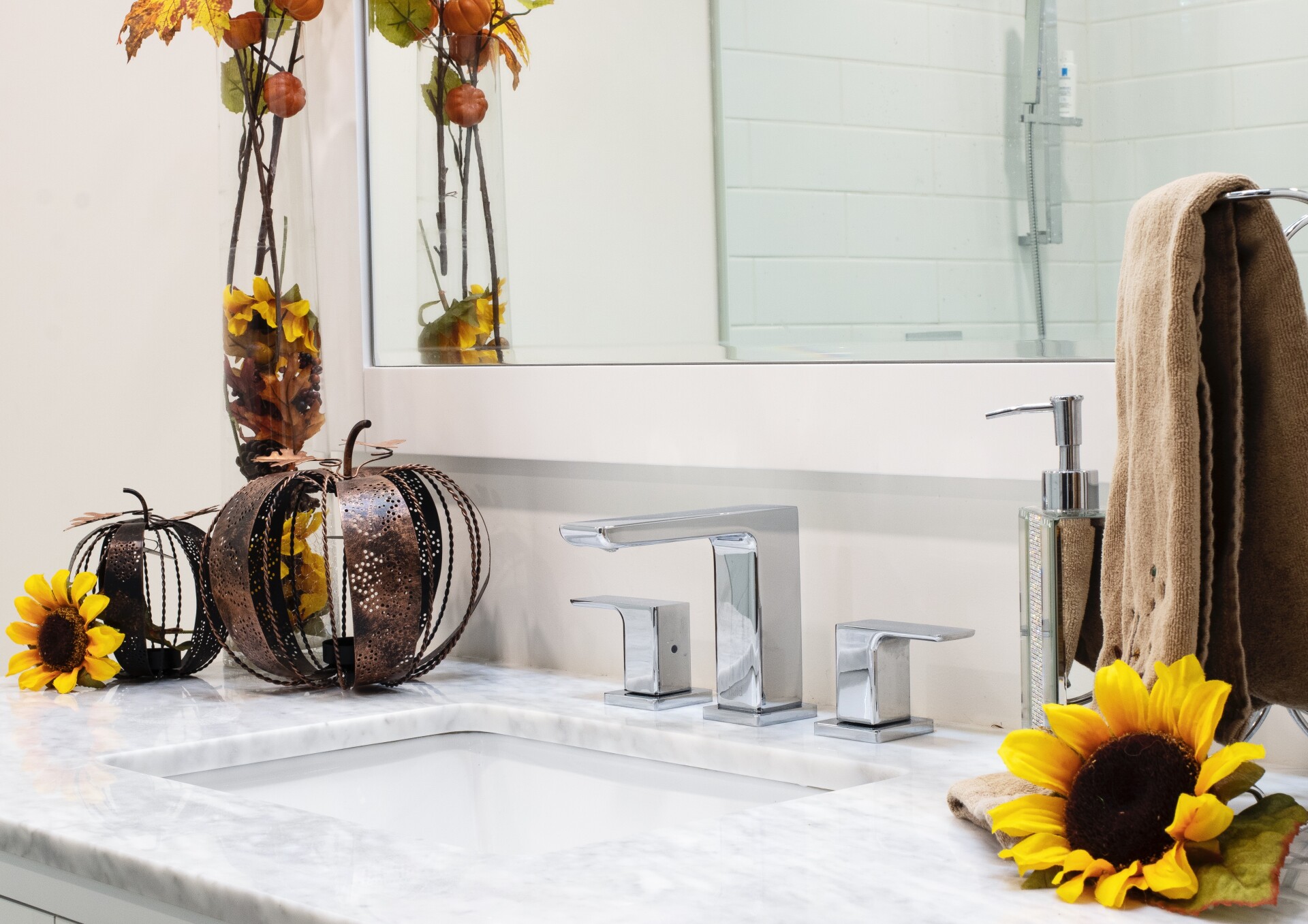 Step One - Clean
There's no turn-off like a dirty bathroom kind of ' turn-off. If you're sharing a bathroom with your guests, it can be easy for clutter and mess to fade into the background so you're going to want to walk in with the fresh eyes of someone who has never seen your place before. This is much easier when you have a dedicated guest bathroom. Give each surface a good clean; wipe down your shower fixtures and faucet and leave your mirror and windows sparkling! If you have hard water or lime scale build up this is a perfect chance to to attack it. (Check out our article on getting rid of hard water build up here).
Pro Tip: All you need to clean your faucet and shower fixtures is a soft cloth (microfibre) and a droplet of Dawn dish soap. Treat your fixtures the way you treat your mirror - with a good amount of TLC.
Wash the floor and mouldings
Wipe the walls
Clean the mirror
Wash any windows, (don't forget to clean the channels)
Clean grout of shower tiles
Clean soap dishes and toothbrush holders
Wipe down fixtures and remove hard water stains
Wash any laundry, including bath mats and hand towels
Make sure that there is a clean toilet brush located beside the toilet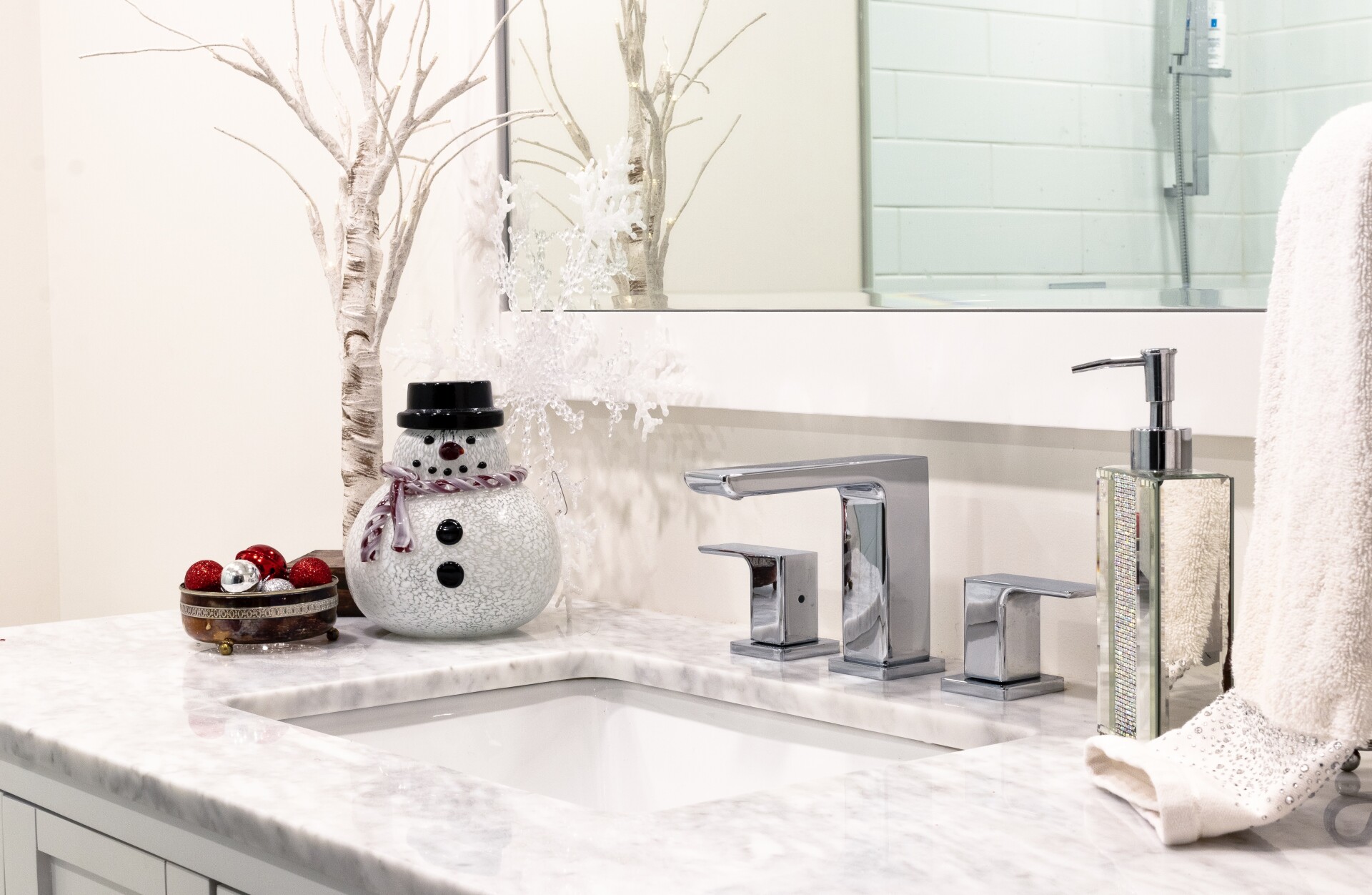 Step Two - Maintain
If you have a rarely used guest bathroom it's likely that you may not even be aware of any maintenance required, so you're going to want to check all of your plumbing fixtures to make sure everything is in top working order. It's also a great time to do any regular maintenance. For more information on what regular toilet maintenance looks like, click here!
If you have a shower rod, check to make sure that it's sturdy and tighten if not
Change your shower curtain liner if necessary
Turn on the faucets and shower fixture to make sure you don't have hard water build-up or leaks. Click here for tips on cleaning hard water build-up!
Check to make sure your toilet is not leaking
Check your towel hangers to make sure they are secured to the wall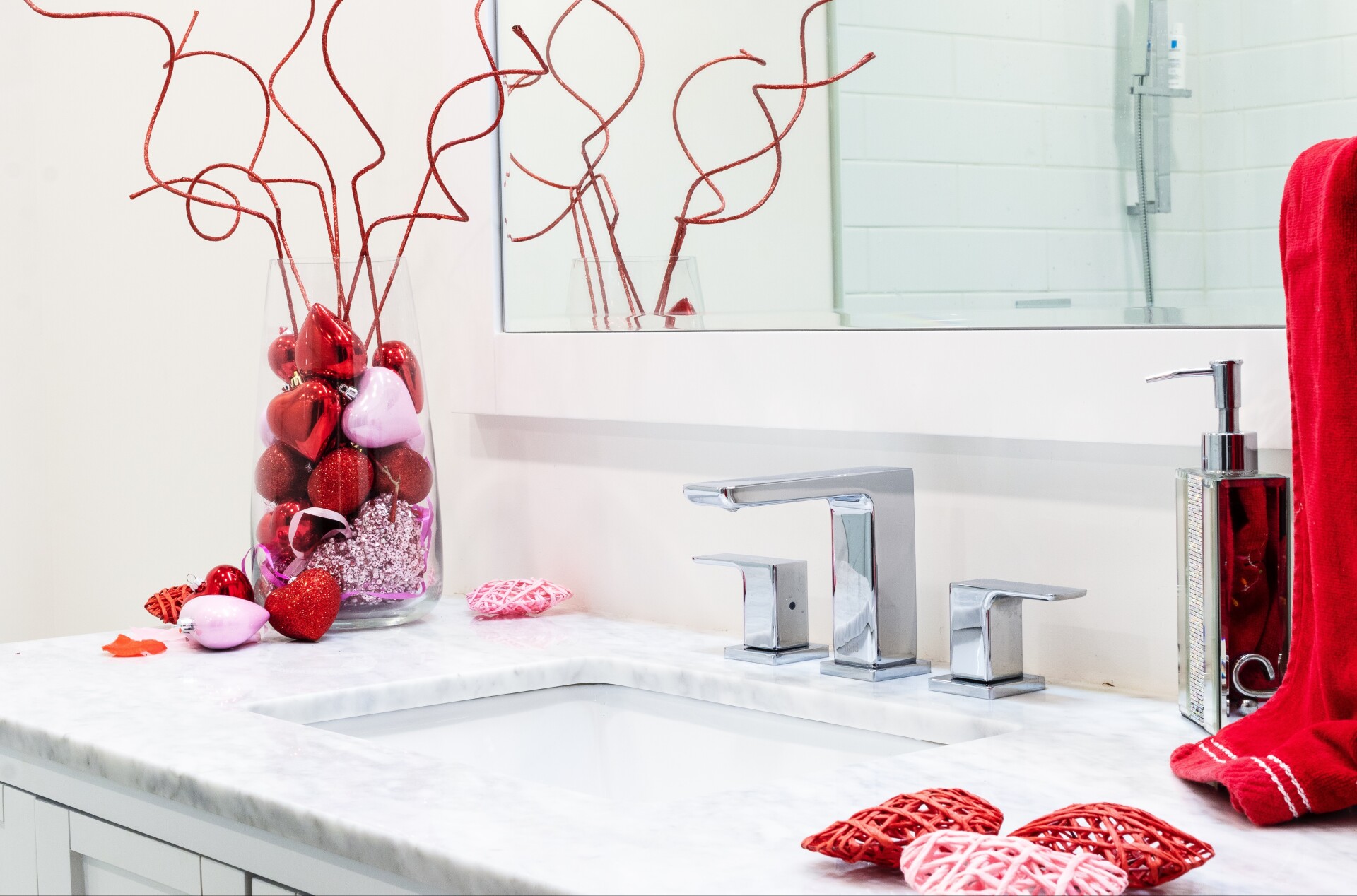 Step Three - Stock Up
No guest wants to ask for more toilet paper - period. If you are only going to do one thing for your guests, make sure that there is extra toilet paper in an obvious location. You don't want guests having to rummage through your cupboards looking. You can add a couple of rolls in a nice basket to put beside the toilet or on top of the toilet tank.
You don't need to break the bank to offer beautiful, natural products. Outfit your shower with small trial-sized shampoo and conditioner and add a natural hand-soap bar for some texture and a very subtle fragrance. Take your hosting prowess to the next level by putting out a range of commonly forgotten items.
Cotton balls
Toothpaste
Toothbrush
New Razor
Nice Hand Soap
Shampoo + Conditioner
Body Soap
Contact lens solution
Body moisturizing lotion
Common Pain medication such as Advil or Tylenol
Allergy medicine
Dental Floss
Nail file, nail polish remover
Fresh towels + hand towels; (if you don't have a spot for extra towels, simply roll a bath, hand and face towel up and place on the countertop, or neatly drape over a bathtub or shower rail. You want your guests to feel welcome, which means never having to ask for what they need.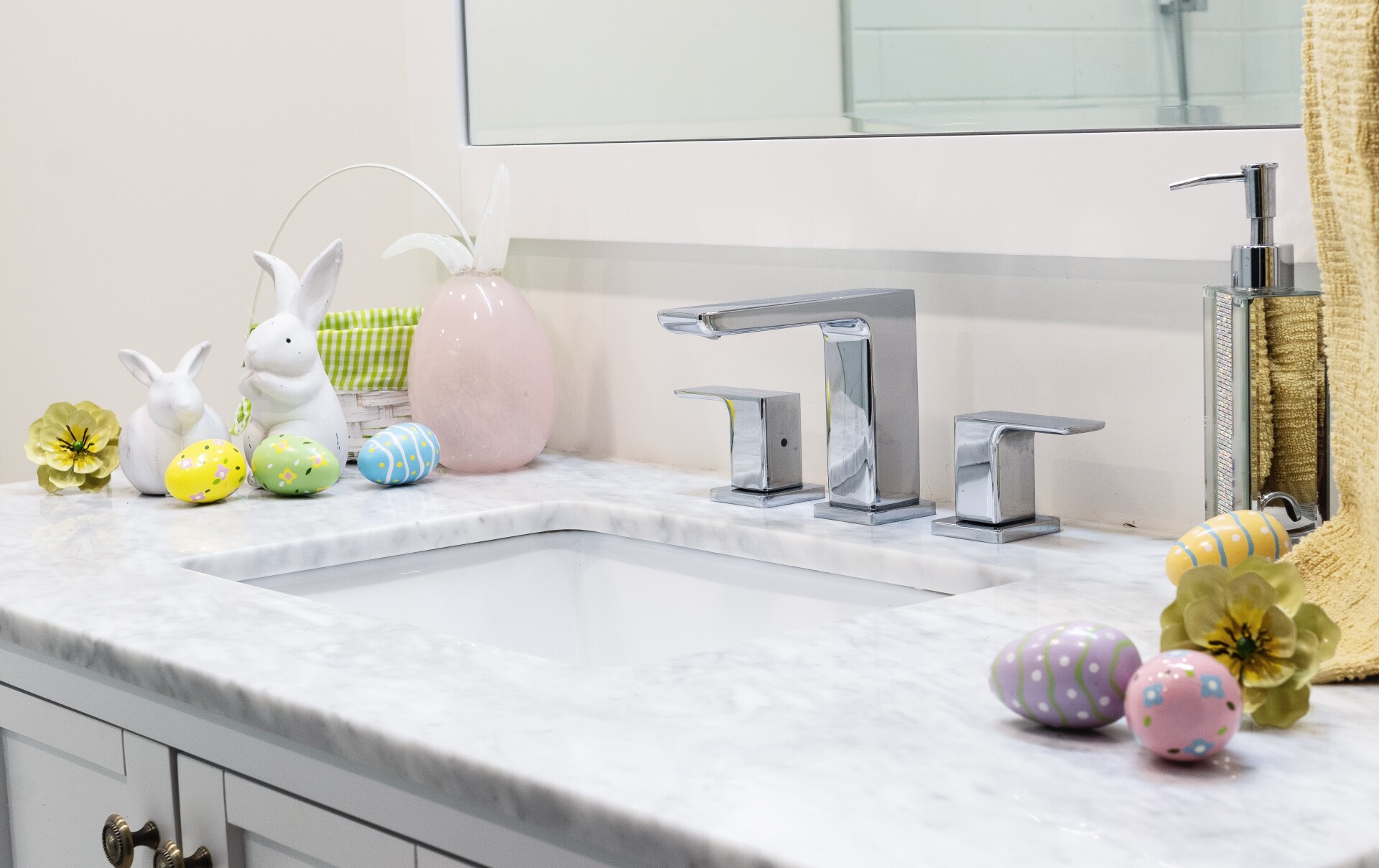 Step Four - Decor
One of the most overlooked places for seasonal decor is the bathroom - yet it's the very space where you start and finish your day! If your guests are staying for a holiday, think about adding some themed-decor. That could be as simple as switching up your accent towels, soap dispensers and adding a little pizzaz. Decor additions can add fun and texture to your room, but do remember that less is more. You want your rooms to be fun or elegant and above all welcoming. You don't want your guest to be battling with decorations for space!
Pick a color theme
Add some fresh cut flowers or seasonal branches
Use an LED candle or twinkle lights to safely add welcoming light when not in use. (Never leave an unattended real candle lit; it is a fire hazard you don't want).
Decorate with nods to the season (fall leaves, spring blossoms, winter greenery or berries, summer blooms)
Add festive fun with holiday decor from nature, your collection or even a dollar store! For Christmas try placing jingle bells in a vase or a cute little collection of Santas or trees on the countertop. Thanksgiving calls for fall leaves, real or silk; pumpkins of all types or even cute little decorative turkeys. Valentines Day? Hearts! Use your imagination, use what you already have or take a walk outside to inspire your creativity.
Don't forget the floor! If you have room, add a nice basket of towels or pine cones; a vase with decorative sticks or leaves or even a themed character , (like a snowman or a scarecrow).
If welcoming people to your home to watch 'the big game', mini team helmets, jerseys and flags extend the excitement throughout your home.
A note on using fragrance - don't! While tempting to infuse your home with a scent you love with a spray or infuser, your guest may not love it which makes the room very unwelcoming. Don't forget that many people have serious allergies to fragrance that can cause rashes or migraines. Other than natural scents from nature and unless you know your guest loves a fragrance, err on the side of caution.
A note on using fragrance - don't! While tempting to infuse your home with scents that you love, your guest may not be a fan or could have a sensitivity, making the room very unwelcoming.