What is Universal Design?
An environment...should be designed to meet the needs of all people...
In the building and design world we talk a lot about products with ADA designation, meaning that they are approved by the Americans with Disabilities Act, ensuring that those with physical or mental disabilities have equal access to commercial and public spaces and amenities. More than that, ADA products are intended for individuals to allow individuals of different abilities to live independently and well. This is important, but it often means changing out products to meet an individual's changing needs. What if design took those differing and changing needs into account right in the initial planning? That is Universal Design.
The National Disability Authority (NDA) defines universal design website as
Universal Design is the design and composition of an environment so that it can be accessed, understood and used to the greatest extent possible by all people regardless of their age, size, ability or disability. An environment (or any building, product, or service in that environment) should be designed to meet the needs of all people who wish to use it. This is not a special requirement, for the benefit of only a minority of the population. It is a fundamental condition of good design. If an environment is accessible, usable, convenient and a pleasure to use, everyone benefits. By considering the diverse needs and abilities of all throughout the design process, universal design creates products, services and environments that meet peoples' needs. Simply put, universal design is good design. (from: http://universaldesign.ie/What-is-Universal-Design/)
So, what would that look like? Let's delve in to bathroom design as a starting point.
Showers: Do you know someone who has had to do a major renovation or even move from their home because the bath/shower was no longer accessible or safe for them? Bathtubs are often too tall to step over, creating a serious hazard. Shower systems don't always feature hand showers, making showering while seated impossible. Expensive adaptations are then needed.
If that bathroom was originally built using Universal Design principles, it could have included a walk in shower with no lip, allowing either a walker or wheelchair to fit. Non-slip tile, grab bars and a hand shower on a slide bar with adjustable heights would be a must. Shower handles would operate and divert with simple, easy wrist movement. So, then, anyone could use that shower! An individual with mobility issues; or in a wheelchair, an able bodied person, tall or short, even a child could easily transition using the same setup. That is the point. If you design a bathroom shower in this way, anyone can move in and start using and enjoying it without any renovations. All of the features are great for everyone, now and as they age.
Features formerly limited to use by elderly or disabled people have gone mainstream. Grab bars have been made so much more attractive in recent years, and anyone can lose their footing in the shower. (All of the scary stats we hear about serious accidents in the shower are not limited to a particular demographic!) Hand showers on a slide bar that allows height adjustment means anyone can get a great shower, whether seated or standing, whether 3' tall or 7' tall. Non-slip tile and in shower seating? Again, useful for everyone and part of universal design.
Faucets. Like showers, faucets need to feature lever handles, easily moved using the wrist only. (Honestly, these describes a huge percentage of faucets currently on the market! They are beautiful and efficient, and installing this style rather than cross handles or continuous turn handles means you never have to worry about anyone being able to use them. Whether able bodied, arthritic, weakened or with limited mobility, everyone is assured the ease and dignity of independent use.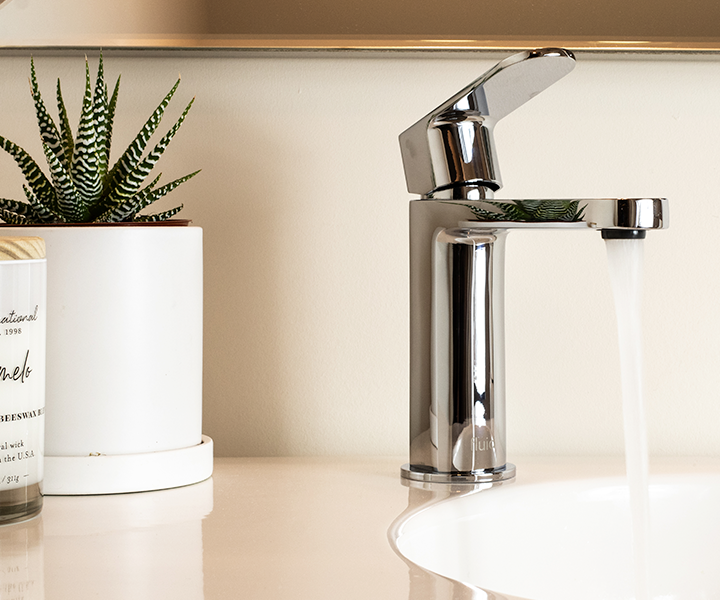 Toilets: If you go back a decade or two, the majority of toilets sold were "standard" height, (about 15 - 17 inches in height). ADA toilets, or easy height toilets are around 17" high, allowing easier transfer from a wheelchair to the seat. So, what would the right height be for universal design? You would want an easy height, elongated seat. Standard toilet height was created well over 100 years ago, when people were significantly shorter. Anyone 6' tall and over should definitely be using an "ADA" toilet as standard height would mean having to sit too low down for comfortable use. What was once referred to as ADA height is now referred to as easy height for the reason that it is much easier to stand up from a higher toilet seat without assistance. The higher seat might not be the best for small children or very petite people, but you can easily have a stool ready for them. Of course you will want to make sure to provide a sturdy grab bar in place around the toilet; perfect for those with mobility issues, an injury, or just someone who missteps! Safety first!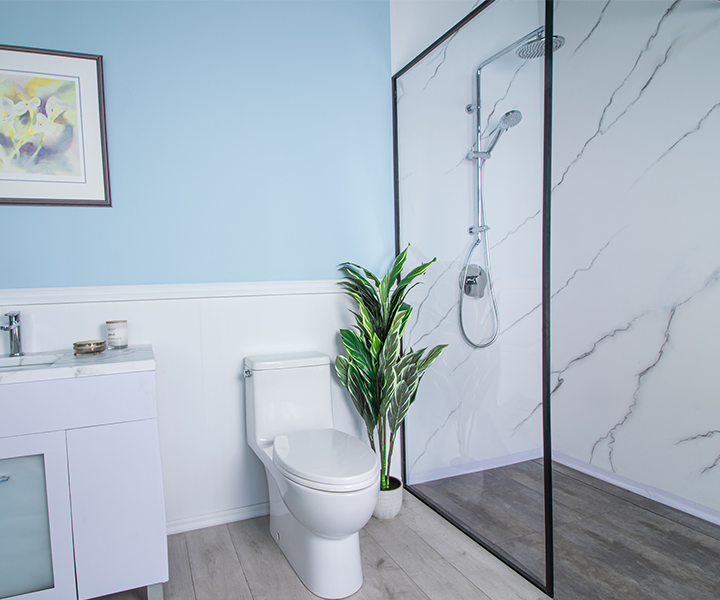 Vanities: Universal design would suggest a wall mounted, floating vanity with enough room for a wheelchair to fit under it. While you lose the under sink storage, you gain a more spacious looking room and a bathroom that will work for everyone. In a larger space with 2 sinks one sink can be a floating vanity and the other a tradition vanity with storage space, giving you the best of both worlds.
This is just touching the surface of universal design and is focused primarily on the bathroom. Next time you are out and about, look for universal design trends in the spaces around you. Gradual sloping walkways instead of stairs; wider hallways allowing for all levels of mobility; automatic doors; lever handles; flat panel light switches, automatic lighting and much more. These design elements are more than a trend, and just as suitable in residential homes as they are in commercial buildings. Universal design is simple, smart design that everyone can operate, without thought or concern.
Do you know someone who has had to do a major renovation or even move from their home  because the bath/shower was no longer accessible or safe for them? Universal Design features work now and as people age.